Before the shop goes into production, it is necessary to carry out tests to make sure that the merchant website and the payment gateway function properly.
Test payment requests must be made with:
Test password
Public test key
HMAC-SHA-256 test key
Several payment cases can be simulated using the test card numbers provided in the debug bar, Test cards tab. The merchant will be able to test the different 3D Secure authentication results (if the Merchant is 3DS-enrolled and the 3DS option is not disabled).
La liste des tests à réaliser pour générer la clé de production est donnée dans le Back Office Expert, menu Paramétrage > Boutique > Clés d'API REST.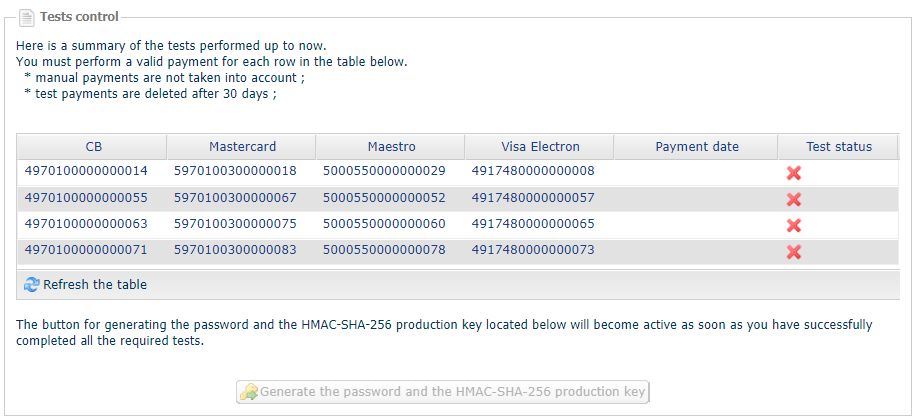 Each line of the list groups together the card numbers associated with the same scenario (i.e. 2 accepted payments and 2 refused payments).
Each column corresponds to a different card type: CB/VISA, MASTERCARD, MAESTRO, VISA ELECTRON).
To perform the test phase:
Place an order on your merchant website as if you were one of your buyers.

Once the form is displayed, click the Test cards tab of the debug bar and select the type of card you want to use.

Refer to the test list to identify the number of the card to be used.

When a test is validated, its status on the list is updated. Use the Refresh the table button if the status has not refreshed automatically.

Once the 4 tests have been validated, the Generate the password and the HMAC-SHA-256 production key button becomes available.

Click Generate the password and the HMAC-SHA-256 production key and accept the various warning messages.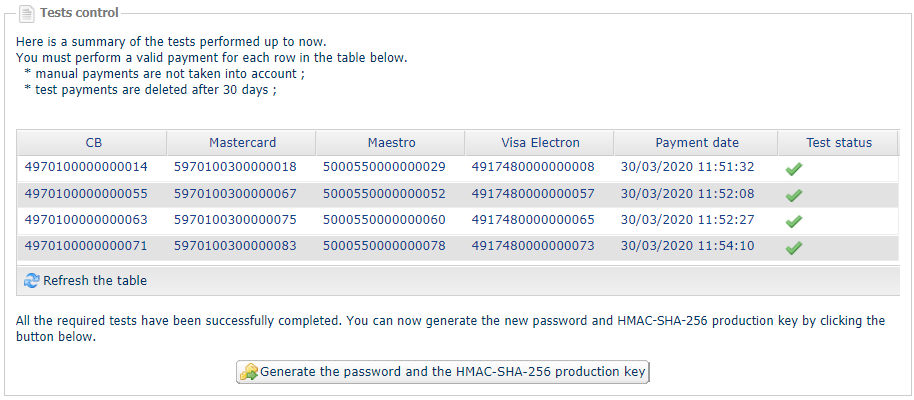 The HMAC-SHA-256 key and production password are now available.
Change your implementation to use:

The production password.
The public production key.
The HMAC-SHA-256 production key for calculating the signature contained in the kr-hash field.

Enter the notification URL correctly at the end of the payment in PRODUCTION mode via the Settings > Notification rules menu.
We recommend you to check the two following aspects:
Proper functioning in an end-to-end production environment.
To do so, make a real transaction of at least €2.
Cette transaction pourra être annulée par la suite depuis le Back Office Expert via le menu Gestion > Transactions > onglet Transactions en cours. This transaction will therefore not be captured.
However, it is recommended to let the transaction be captured in order to confirm that the merchant's account has been credited. It will then be possible to make a refund.
Le bon fonctionnement de l'URL de notification de paiement (Url de notification à la fin du paiement) renseignée dans le Back Office Expert.
Affichez le détail de la transaction dans le Back Office Expert et vérifiez que le statut de l'URL de notification (Statut URL de notification) est bien Envoyé.